Para la edición anterior, ve a Chancevision Song Contest 7
Para la edición posterior, ve a Chancevision Song Contest 9
La octava edición de Chancevision Song Contest se celebra en Róterdam,
Netherlands. Es un spin-off de la séptima edición, y podría considerarse una edición 7.0.
Por primera vez,
United Kingdom se divide en sus cuatro países:
Wales,
England,
Scotland e Irlanda del Norte.
Esta edición tiene reglas especiales y el proceso de casting es muy distinto al de ediciones anteriores. Además, por primera vez, no se celebran semifinales y solo hay plaza para 24 países (= 24 participantes) en una final única.
Los presentadores de la gran final son los mismos que los de Eurovisión 2020 y Eurovisión 2021: Edsilia Rombley, Chantal Janzen y Jan Smit.
Todo el concurso se desarrolla en Twitter: @Chancevision, aunque los vídeos EN DIRECTO se emiten a través de YouTube, cocretono.
Puedes escuchar las 24 canciones participantes en esta edición en las siguientes plataformas:
Países participantes
En esta edición solo participan 24 países, que pueden verse en el siguiente mapa, cedido por Xoelpr.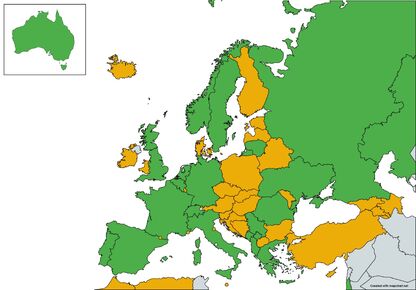 Gran Final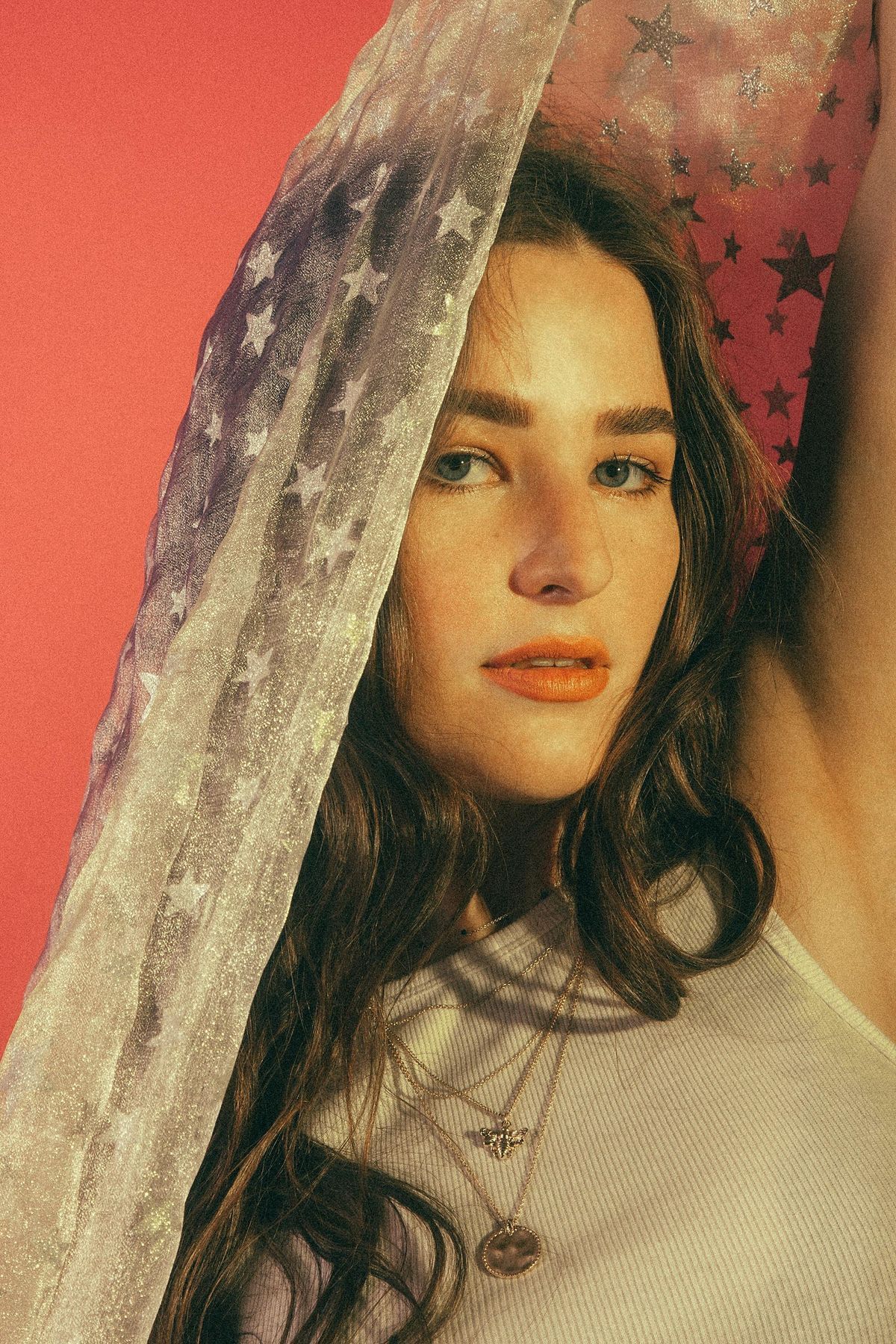 La Gran Final se celebra el 29 de marzo de 2021 a las 16:00h CEST a través del canal de YouTube. Votan todos los participantes (siendo éste el 50% de la votación) y también votan como televoto unas personas invitadas (sumándolo al porcentaje del top 13, que todo junto hace el 50% restante).
Australia, con Mia Wray y su "Never Gonna Be The Same" vence tanto en jurado como en televoto y se convierte en la ganadora de la edición con 228 puntos. El país consigue, así, su mejor posición en el concurso hasta la fecha. A la derecha se muestra una foto de la ganadora de la edición. ¡Enhorabuena!
Además, el top 5 lo completan
Ukraine (2ª posición),
Albania (3ª posición) y
Sweden (4ª posición), quienes consiguen su mejor posición hasta la fecha también, y
Germany (5ª posición) que regresa al top 5 después de varias ediciones.
Clasificación General
A continuación se muestra la tabla completa de los resultados finales de la Gran Final:


| RO | País | Artista(s) | Canción | # | Pts |
| --- | --- | --- | --- | --- | --- |
| 01 | Ukraine | Michelle Andrade | "Mirror" | 2 | 190 |
| 02 | Portugal | Gisela João | "Louca" | 22 | 56 |
| 03 | Sweden | Normandie | "Holy Water" | 4 | 171 |
| 04 | Russia | Mari Kraymbreri | "Pryatalas v vannoy" | 14 | 105 |
| 05 | Greece | Josephine | "Paliopaido" | 7 | 137 |
| 06 | Kosovo | Yll Limani | "Buzet e kuqe" | 13 | 110 |
| 07 | Belgium | Apashe ft. LIA | "Behind My Eyes" | 11 | 118 |
| 08 | Scotland | Roo Panes | "The Sun Will Rise Over The Year" | 21 | 66 |
| 09 | Australia | Mia Wray | "Never Gonna Be The Same" | 1 | 228 |
| 10 | Italy | BLANCO | "Ladro Di Fiori" | 20 | 76 |
| 11 | Spain | Nøgen | "Zeri Begira Hartu Nahi Duzu Lo?" | 18 | 86 |
| 12 | Albania | Valza | "Ai" | 3 | 181 |
| 13 | France | chien noir | "Histoire vrai" | 16 | 96 |
| 14 | Israel | Noga Erez | "End Of The Road" | 15 | 101 |
| 15 | Lithuania | Monique | "Nemiga" | 23 | 50 |
| 16 | Kazakhstan | NINETY ONE | "SENORITA (TEKKETEKKE)" | 24 | 43 |
| 17 | England | Astraea | "Tonight I Run" | 6 | 145 |
| 18 | Germany | MYLE | "Following You" | 5 | 167 |
| 19 | Romania | Iona Ignat | "Lui, Domnului" | 12 | 117 |
| 20 | Montenegro | Enisa | "Love Cycle" | 8 | 126 |
| 21 | Netherlands | Blackfriar | "The Séance" | 19 | 78 |
| 22 | Norway | Cham Léon | "four" | 9 | 124 |
| 23 | Switzerland | ZIAN | "Show You" | 10 | 124 |
| 24 | Serbia | EDITA | "JA SAM TVOJ DOM" | 17 | 89 |
Gran Final: EN DIRECTO
Puntos desglosados
Jurado‏‏‎ ‎‏‏‎ ‎‏‏‎ ‎‏‏‎ ‎‏‏‎ ‎‏‏‎ ‎‏‏‎ ‎‏‏‎ ‎‏‏‎ ‎‏‏‎ ‎‏‏‎ ‎‏‏‎ ‎‏‏‎ ‎‏‏‎ ‎‏‏‎ ‎‏‏‎ ‎‏‏‎ ‎‏‏‎ ‎‏‏‎ ‎‏‏‎ ‎‏‏‎ ‎‏‏‎ ‎‏‏‎ ‎‏‏‎ ‎‏‏‎ ‎‏‏‎ ‎‏‏‎ ‎‏‏‎ ‎‏‏‎ ‎‏‏‎ ‎‏‏‎ ‎‏‏‎ ‎‏‏‎ ‎‏‏‎ ‎‏‏‎ ‎‏‏‎ ‎‏‏‎ ‎‏‏‎ ‎‏‏‎ ‎‏‏‎ ‎‏‏‎ ‎‏‏‎ ‎‏‏‎ ‎‏‏‎ ‎‏‏‎ ‎‏‏‎ ‎‏‏‎ ‎‏‏‎ ‎Televoto

| Lugar | País | Puntos | | Lugar | País | Puntos |
| --- | --- | --- | --- | --- | --- | --- |
| 1 | Australia | 119 | | 1 | Australia | 109 |
| 2 | Ukraine | 102 | | 2 | Albania | 99 |
| 3 | Sweden | 102 | | 3 | Ukraine | 88 |
| 4 | Germany | 91 | | 4 | England | 77 |
| 5 | Albania | 82 | | 5 | Germany | 76 |
| 6 | Switzerland | 71 | | 6 | Greece | 73 |
| 7 | Norway | 69 | | 7 | Montenegro | 69 |
| 8 | England | 68 | | 8 | Sweden | 69 |
| 9 | Greece | 64 | | 9 | Romania | 64 |
| 10 | Kosovo | 61 | | 10 | Belgium | 61 |
| 11 | Montenegro | 57 | | 11 | Russia | 60 |
| 12 | Belgium | 57 | | 12 | Norway | 55 |
| 13 | Romania | 53 | | 13 | Switzerland | 53 |
| 14 | Israel | 53 | | 14 | Italy | 49 |
| 15 | France | 51 | | 15 | Kosovo | 49 |
| 16 | Spain | 48 | | 16 | Netherlands | 48 |
| 17 | Russia | 45 | | 17 | Israel | 48 |
| 18 | Serbia | 45 | | 18 | France | 45 |
| 19 | Portugal | 31 | | 19 | Serbia | 44 |
| 20 | Netherlands | 30 | | 20 | Spain | 38 |
| 21 | Scotland | 29 | | 21 | Scotland | 37 |
| 22 | Italy | 27 | | 22 | Lithuania | 33 |
| 23 | Kazakhstan | 20 | | 23 | Portugal | 25 |
| 24 | Lithuania | 17 | | 24 | Kazakhstan | 23 |